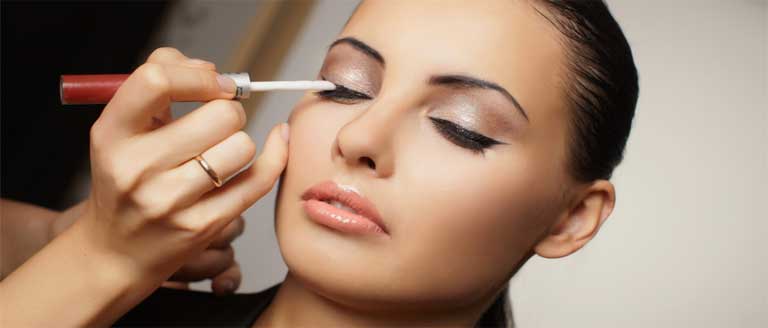 Nearly every woman who wants to improve her looks uses make-up of some kind. Some might just add a touch of lipstick while others go the whole hog and apply layers of make-up to ensure they have that wow factor. No matter how you use make-up there are many beauty tips available to help you get the most out of it. Here are 12 top tips for applying make-up.
Don't use concealer or foundation on your eyelids as it is too thick and will become creased.
Sometimes a sheer foundation coverage is better than a thick one. Achieve this by applying it with the fingertips and leave the brush until you want a medium or thick coverage.
Apply powder to shiny areas of the face first. This is usually the T-zone – the forehead and fridge of the nose or the nose and chin area. Once that is done, a very light dusting can be added to the rest of your face.
If using bronzer, don't just use it on your face, as this will give a two-tone effect. It should also go on the neck and chest, if that part is showing.
Blushing? Smile so you can see where the 'apple' of your cheeks are. Apply blush to that area first then sweep up towards the top of the ears and down to the jaw line.
Get a quick facelift by shading the top of the eyebrows with a brow pencil
Lipstick should be applied from the middle of the top lip towards the sides for the most even look. Blot slightly when finished.
If you are an eye-shadow person, choose a matte base shadow to match the lightest part of your face. Dust sparingly over the lids and up to the base of your brow bone.
Eyeliner may not be the easiest make-up to apply, but if you come closer to the mirror, angle your face so your chin is closer to the mirror than your eyes, then look down as you apply it, you'll find it easier.
Apply mascara like this: load the brush and start at the base of the eyelashes. Make a zigzag motion as you sweep your way to the ends. This will make sure mascara covers the whole lash.
Hold make-up brushes in the centre of the handle for a lighter grip and more even application.
Use concealer with a green pigment to hide unwanted red areas and an orange pigmented on one for removing blue bags or shadows under the eyes.