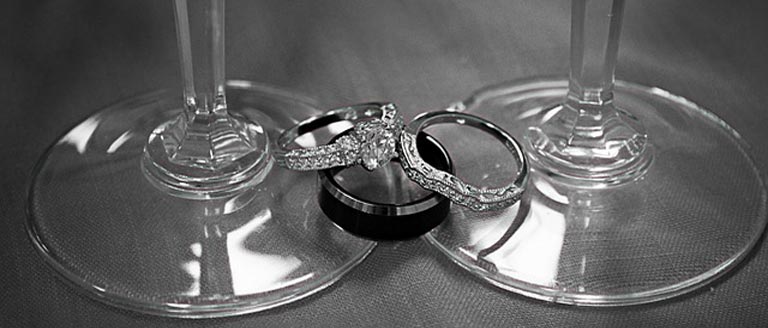 When you are beginning to go down the exciting path of choosing engagement rings, you will find it's not smooth sailing like choosing cake. While the journey to selecting the best engagement ring is rewarding, it can be fraught with challenges.
According to Diamonds and Pearls, you need to work out what size ring finger you both have, figure out how to measure your fingers and rings, and ensure that at any time of the day, your ring is going to fit perfectly. It's not as straightforward as you may think, but it's a worthwhile process to ensure the perfect fit. Here is how to go about it.
What You Will Need:
Dental floss, fine string, or a long strand of cotton
A pen
An accurate and clear millimetre ruler
How to Measure Your Engagement Rings:
Grabbing the string, wrap it around the base of your finger.
Mark the ending point on the string with the pen – the place where each piece of the string joins each other.
Lay the string out flat with the pen mark visible.
Measure the end of the string up to the pen mark to the nearest millimetre.
Compare your results to a ring chart.
NOTE: Make sure you choose the ring size that compares to your ring's country of origin. Each country has different size options, such as Japan, Great Britain, Germany, the United States, Canada, and France.
Things to Consider:
Believe it or not, at any time of the day, your ring finger measurements can change. To ensure you get the perfect fit, measure your finger at night which is when it's likely to be at its largest.
It's also worth ensuring that you measure your ring finger on the correct hand as your measurements will vary from one hand to the next.
What's more, don't size your ring down to the nearest millimetre. Instead, size it up. If you size it down, you are not considering your knuckle size and can risk not getting the correct ring measurements.
What's Next?
Once you have completed the arduous task of sizing your fingers for engagement rings, it's time to go shopping. If you view jewellery for sale online, you can get an idea of the style you like before heading instore for proper fitting and shopping. Trends change all the time, and what you may have loved many months ago could no longer be available. Pay attention to metal types, carat-weight, the price tag, and the four Cs (cut, clarity, colour, carat).