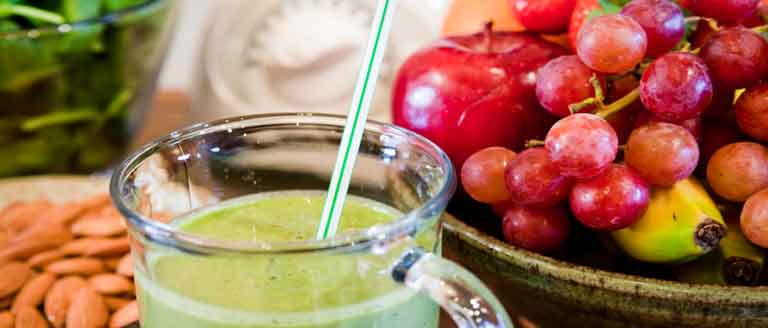 The latest food recommendation is to have 5 serves of fruit and vegetables a day. This may seem difficult for some people, especially those who don't like vegetables, or just prefer to eat other things. Fresh fruit and vegetables are not only healthy, they actively fight off certain diseases such as cancer, so it's a good idea to make sure you include them in your diet.
Here are a few easy ways to get the vegetable and fruit you need each and every day.
Juice them – there are many great recipes for smoothies on the internet. You can combine fruit and vegetables to give you a refreshing drink packed full of vitamins and other essential, health giving nutrients. Try combinations of apples, carrots, oranges, celery and spinach. Add berries, beetroot or broccoli. Use the type of juicer that doesn't waste the fibre, but includes it in the juice.
Add them to breakfast. Fruit, especially is great with cereal. Try slicing a banana over oatmeal or cold cereal or add berries, peach slices or any other fruit you like.
Have fruit and/or vegetables for snacks. Keep prepared carrot and celery sticks in the refrigerator so they are handy to grab. Add an apple, banana or other fruit you like.
Banana sandwiches are a delightful end to a light meal. But they have to be prepared and eaten quickly, or the banana goes brown.
Having tinned fruit salad? Add some fresh fruit to it, to make it taste especially good. Diced apple, sliced bananas, fresh mandarin segments, berries, and sliced peaches are all great choices. Better still, make your own fresh fruit salad.
Add more vegetables to your salads. Raw, grated carrot and beetroot mixed are an attractive and healthy addition not to mention tasty.
Having coleslaw? Add diced apple and celery to bought coleslaw for more taste.
Serve vegetable and cheese platters for snacks. Sticks of celery and carrot are great together; add olives or some apple slices for another tempting taste.
Add home-made soups and stews to your diet. These are a great way to disguise the taste of the veggies that you may not like too much. A thick vegetable soup put through the juicer or blender may be more acceptable to children who don't like specific vegetables. They won't know what's in it, or be able to pick out the bits they don't like.
Add onion slices to the pan when frying or roasting meat.
Once you get more fruit and vegetables into your diet, you'll be and feel much healthier, especially knowing that you've given your body the fuel and nutrients it needs to fight off many diseases.